: Middle-East Spa
The Designer chose MYMOSAIC tiles since they are waterproof and steam resistant and thus perfectly fit for the wet area of this elegant spa. He wanted to recreate an environment with typical Middle Eastern influences; as a matter of fact, the round base, the arches and niches recall the classic Hammam.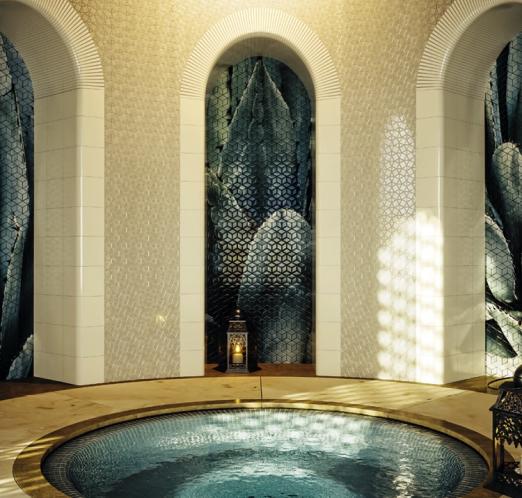 All is shaded by the ivory on the walls that, even if glossy finishing, lightens the setting and enhancing the niches full of nature.
For the ivory walls GEMS tiles (Texture Collection) have been selected.
One more challenge for MYMOSAIC: the blue shades into the pool: from the light blue on sides toward a deep blue in the middle.
This project, totally realized with MYMOSAIC, testifies the actual flexibility of this product; the variety of uses and its talent to pass from the customized photographic reproduction on the niches to the patterns in the other walls and ceiling.
For the niches the reproduction of agave leaves has been selected, a well-known plant with therapeutic properties, as a hint of the typical surrounding flora, with a RHOMBUS cut (Photographic collection).
The richness of the gold here has been interpreted using the DOTS tiles (Texture Collection), also creating a un light mirroring on the vault.