Our photographic mosaic lands at BDNY 2021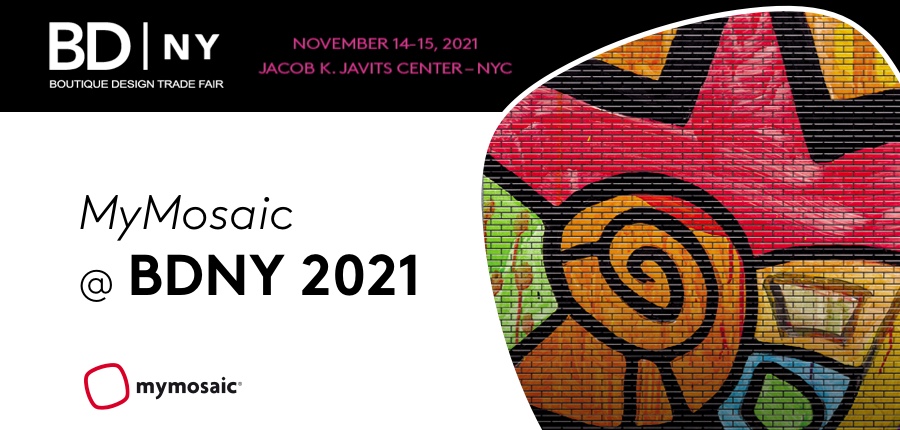 This weekend, don't miss BDNY; you will discover every single quality of MyMosaic tiles - did you know we can transform any digital image into a 3D Photographic Mosaic?
First and foremost, let us tell you what Boutique Design New York (BDNY) is. 
It is a trade fair and conference for hospitality's boutique and lifestyle design community. It takes place two days per year in November; its aim is to meet together designers, hoteliers, purchasing agents, architects, owners and developers with inventive manufacturers of design elements for hospitality interiors.
BD|NY will celebrate its 11th year by returning to New York's Javits Center on November 14-15th, 2021. 
WELCOME TO OUR PHOTOGRAPHIC MOSAIC WORLD
Last BDNY edition was a success for MyMosaic. This time, we will set up our booth again to welcome you during these two high-energy days of one of the most prestigious, creative and curated events of the year. 
Here is our invitation to imagine and experiment with us; choose your own image and see what we can do to decompose it into hundreds of tiles and rebuild it into an extraordinary functional piece of art. You can be part of this unique process, an actual creation of totally customizable tiles forming a wall.
MYMOSAIC TILES SPECIFICS
Our products are part of a super hi-tech project. You can find more about the characterics of our tiles by coming to BDNY this year. 

Here are some specifics.
Low Thickness. MyMosaic tiles can be applied everywhere, especially onto existing tiles. The only limit is your wall;
Lightweight. Only 3.9 ounces per square foot! Can you believe it?
Flexibility. The tiles can even wrap around curved shapes;
Longevity. The tiles are outdoor resistant and highly durable in time;
Easy to Install;
Anti-Slippery. MyMosaic tiles can be laid on pool side areas. You will not slide.
We look forward to seeing you at booth 1034 to discuss your ideas for your next Photographic Mosaic!