SPRING BLOSSOM: the new colorful mosaic wall cladding collection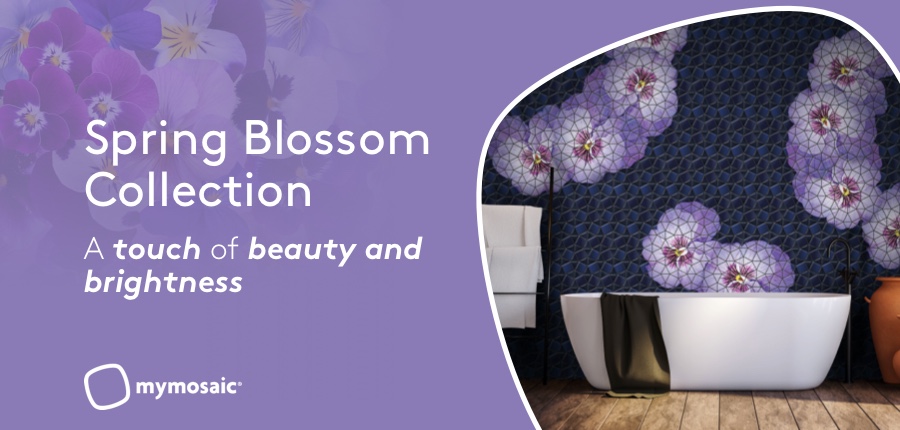 A mosaic wall cladding as a metaphor for rebirth. 
SPRING BLOSSOM is the new MYMOSAIC collection influenced by the colors and flowers in nature. We celebrate the brightest season of the year by reinterpreting the well-known GEMS collection.
Spring has always inspired the world of fashion and design for its vivid colors and the delicacy and beauty of the blooming flowers. 
It impacts people's moods, encouraging different emotions, energies and reactions. It is a symbol of human life and a message of hope. 
It is indeed the time of awakening after winter; in English, the verb spring also means arise, jump, pop up, etc., while blossom is used also for indicating a person or a situation that is in its best moment of life. 
Our new mosaic wall claddings want to represent this phase in all its marvelous complexity, bringing out the extreme richness of its meanings. We mixed colors and patterns creating new combinations, from pastel tones to absolute black. 
The floral motif recalls the beauty of nature, alternating with the geometric shapes of the shaded backgrounds of GEMS. The collection comes in three different colors; each motif is always inspired by the pansy flower, a beautiful symbol of love, thoughtfulness and remembrance. The black and gold combination is the perfect solution for those who want more sophisticated decorations. 
By choosing among a series of modules and completing the wall with the shaded GEMS, the final creation will design a Tattoo effect on the underlying plaster. 
Thanks to their extreme flexibility, MYMOSAIC tiles can be applied on every kind of surface, even on outdoor walls and bathroom floors. They are in fact anti-slippery, highly durable in time and maintain their elevated performances with any weather conditions. 
Choose the new SPRING BLOSSOM collection and start decorating your space with these splendid mosaic wall claddings. Every place can be transformed into a new one containing a never ending spring atmosphere.