Romero Britto signs the exclusive design for Iberia Tiles in MyMosaic product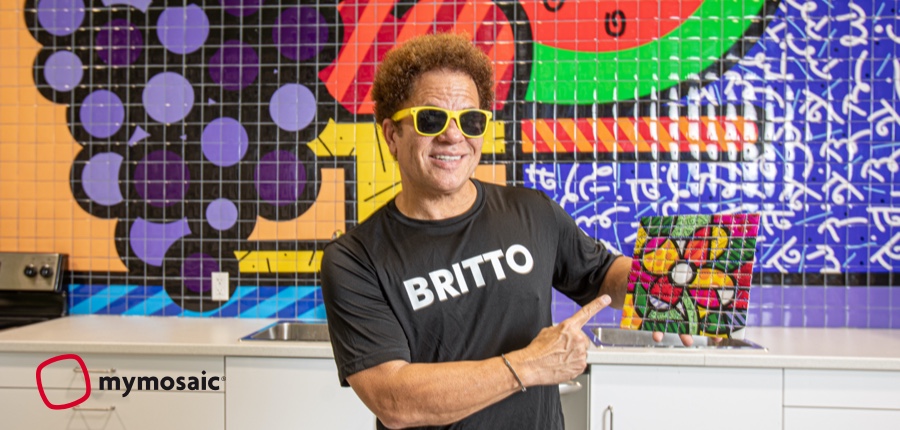 Founder of the Happy Movement, he has created an unmistakable multi-colored and optimistic visual language that can inspire millions of people all over the world. We are talking about Romero Britto, versatile innovator of pop culture, who is focusing today his creativity toward the mosaic design creating a very exclusive collection for Iberia Tiles, recalling all the Brazilian energy, his native country.
The Romero Britto Art always combines and tests different styles: Cubism for the simple shapes, Pop-Art and Street-Art for the recurrences of figures and the bold black lines by Roy Lichtenstein and Keith Haring.
The outcome? Ironic and empathetic artworks full of intense and happy colors. In the contemporary world, where the big cities recalls us a grey, monotone and crowded world, marked a pressing pace, the "Brittian" artworks let us breath in a different context with an optimistic reading of the reality,  thanks to his new "style grammatic". 
Sculptor, painter, screen printer, Britto draws inspiration from the world around us, encouraging us to find the beauty in the multicolored palettes of life, by testing on materials and spreading his Art on unexpected object and surfaces.
This is how the exclusive limited edition Iberia Tiles collection by Britto comes to life: the Romero Britto Art enters the houses with a next-gen technology mosaic design, able to bring the intense Happy movement to your home, and beyond. The recent unveiling of the artist's work at the Aventura City of Excellence School in Florida is a perfect example.

The use of MyMosaic® is an important step in the Artist's path, allowing him to create most enduring murals and without limit of size or use, since MyMosaic® tiles are fit for outdoor environment, water-proof even in immersion.
A patented, self-extinguishing, high resistant next-gen mosaic, reproducing the Romero Britto Art in exclusivity for Iberia Tiles in a totally customized mosaic design. Vivid colors, 3D effects, themes loved by the Artist all in one product, which can be supplied in different shapes and sizes, fit for indoor, outdoor and wellness areas.
Discover all the MyMosaic® collections in Partnership with other Artists.