: Optical Domino
Of Black and White we never get tired, so here's a fun and yet classic new wall play.
The DOMINO shape is completely new and creates an optical carpet that can then be repeated even in shades of gray, mitigating the impact but remaining faithful to the visual effect created onthe wall.
The tile is very similar to the GEMS one but thanks to the full colors, the effect is transformed and the rhomboid game creates a very original motif.
: Available Colors
DOMINO BLACK
( TC_OPD_BK )
7.09 x 9.84 in / 18 x 25 cm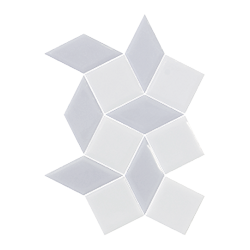 DOMINO GRAY
( TC_OPD_GR )
7.09 x 9.84 in / 18 x 25 cm